GARAGE DOORS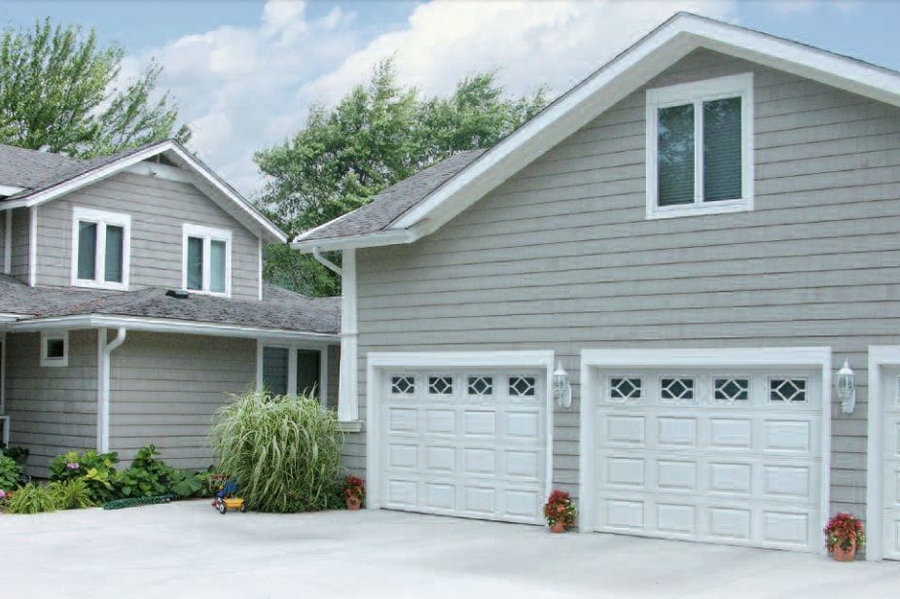 Believe it or not, your garage door can say a lot about your home. In many instances, it takes up about 33% of façade. The appearance of your garage door – it's style, type, and material – holds significant power, either enhancing the beauty of your home or taking away from it. At Shannonwood Garage Builders, not only do we have over 35 years of experience building garages, we are also your Cleveland experts for garage door installation.
Beautify your home with the Choice Series by Anderson Door. Available in insulated and non-insulated models, these quality residential garage doors feature tradional style with attractive raised panels and a variety of window choices based on the Estate Window Series. Heavy duty steel construction ensures long lasting strength and durability that adds valude to your home for years to come.
CLEVELAND GARAGE DOOR INSTALLATION
Choosing the Right Garage Door
Because your garage door has such a huge impact on the appearance of your house, it is important to choose the right one. But how do you know which one is right? The answer is easy: whichever one best suits your needs. There are several different types of garage doors from which you can choose:
Steel. Steel garage doors are by far the most popular choice, as it is exceptionally durable. With a beautiful steel garage door, not only will it last for many years, it will stay beautiful and will require very little maintenance.
Wood. Wooden garage doors have been around for years. They have a natural beauty that cannot be matched. Not only that, but they are quiet and versatile. The only disadvantage to wooden doors is that they require maintenance to keep them looking beautiful and functioning properly.
Fiberglass. This material has been growing in popularity. Much like steel, it will maintain its beauty and requires very little, if any maintenance. The disadvantage to fiberglass is that it tends to be a bit pricier than other options.
Updating a Classic
Carriage house garage doors offer a unique, classic, look to your home, imitating the doors of old carriage houses. These days, homeowners are able to get that same classic look, but outfitted with today's technologies – combining steel and paint, along with increased safety features – giving you the ability to add a significant amount of curb appeal to your home. Carriage doors are still available in wood, too, although they will require additional maintenance.
Why Choose Shannonwood
Shannonwood Garage Builders is a well-established company in Cleveland with over 35 years of experience in building garages and garage door installation. With the ability to choose from a variety steel doors, steel carriage house doors and wooden carriage house doors, you will most certainly find the perfect garage door for your home. You can further customize your garage doors with a number of different options from the Estate Window Series, by Anderson. Our entire crew has been with us for over 30 years. They have decades of experience and a dedication to quality. It is our goal to provide you with the highest quality garage door installation possible. That is why we work with Anderson Doors, utilizing their Choice Series. Anderson is a Cleveland based company that uses these high-quality materials and they have an exceptional focus to detail. This is why we guarantee our work. If you're not satisfied, we will fix it for you.
CLEVELAND GARAGE DOOR REPLACEMENT
Not only does your garage door need to be beautiful, it, of course, needs to be functional. This is why we will not only install new garage doors, we can also maintain and repair (or even replace) them as well. With all of our years of experience, we are your top choice for all of your garage door needs.
If you're ready to enhance the beauty of your Cleveland home with new garage doors, look no further than Shannonwood Garage Builders. Contact us today for more information!
We proudly choose these doors from Anderson Door, a Cleveland based company, to complete the look and feel of your garage because of the high quality durable materials and their focus to detail.
Estate Window Series: